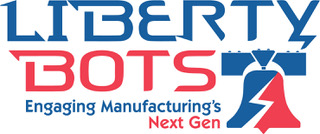 Liberty Bots is a program competition organized by the New Jersey, Philadelphia, Eastern PA (NJPA) Chapter of the National Robotics League (a manufacturing workforce development program of the National Tooling & Machining Association/NTMA).
Participating student teams design and build remote-controlled robots (Bots) to compete in a gladiator-style face-off. The students work through the manufacturing process as they design, build and compete with their robotic creations.
LIBERTY BOTS 2022 — Sunday April 24, 11:00 a.m.
This year's competition will be held at Montgomery Community College. YOUR SPONSORSHIP helps provide parts and controllers to the participating Robotics Team competitors, from high schools throughout the region.
USE THE FORM BELOW TO JOIN OUR GROWING LIST OF SPONSORS, INCLUDING:
EKL Machine, Kreischer Miller, McKnight Steel, Trident Plastics, Gehr Plastics, Norplex-Micarta, Cer-Mac …